contributor ::: russo schelling
Love is a tricky thing. It's a long journey filled with uncertainty, coupled with cascade of emotions that quickly drugs your mind and plays Hall & Oates "You Make My Dreams Come True" on repeat. It's the greatest feeling in the world and it's hard to achieve. Well it's not hard if you don't have these 36 questions on hand for your next date.
No, theye're not some incantation, and no you do not need to sacrifice a small animal to get the sacred words— they're actually pretty simple.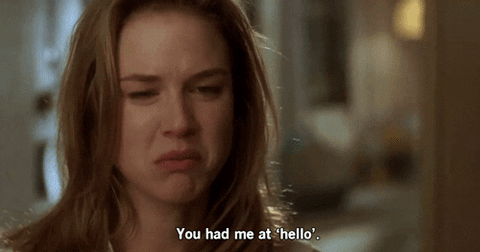 Back in 1997, while Jerry McGuire was being had at hello, a group of psychologists were under going a study on a set of questions that can make both parties involved fall in love. These said questions start out tame, but dig deep, forcing one to recall terrible memories, scary hypotheticals, and forcing one to finish certain statements as fast as one can.
You can see it in action in this video. It seems to almost force chemistry. As you watch them feel awkward, the questions flow so well that conversation and comfortability settle in faster than your typical first date. 
See for yourself! Next time you go out, be a weirdo and play "36 Questions of Love".
---
Set One
1. If a crystal ball could tell you the truth about yourself, your life, the future or anything else, what would you want to know?
2. Is there something that you've dreamed of doing for a long time? Why haven't you done it?
3. What is the greatest accomplishment of your life?
4. What do you value most in a friendship?
5. What is your most treasured memory?
6. What is your most terrible memory?
7. If you knew that in one year you would die suddenly, would you change anything about the way you are now living? Why?
8. What does friendship mean to you?
9. What roles do love and affection play in your life?
10. Alternate sharing something you consider a positive characteristic of your partner. Share a total of five items.
11. How close and warm is your family? Do you feel your childhood was happier than most other people's?
12. How do you feel about your relationship with your mother?
Set Two
1. Make three true "we" statements each. For instance, "We are both in this room feeling …"
2. Complete this sentence: "I wish I had someone with whom I could share …"
3. If you were going to become a close friend with your partner, please share what would be important for him or her to know.
4. Tell your partner what you like about them; be very honest this time, saying things that you might not say to someone you've just met.
5. Share with your partner an embarrassing moment in your life.
6. When did you last cry in front of another person? By yourself?
7. Tell your partner something that you like about them already.
8. What, if anything, is too serious to be joked about?
9. If you were to die this evening with no opportunity to communicate with anyone, what would you most regret not having told someone? Why haven't you told them yet?
10. Your house, containing everything you own, catches fire. After saving your loved ones and pets, you have time to safely make a final dash to save any one item. What would it be? Why?
11. Of all the people in your family, whose death would you find most disturbing? Why?
12. Share a personal problem and ask your partner's advice on how he or she might handle it. Also, ask your partner to reflect back to you how you seem to be feeling about the problem you have chosen.
---